1. Improper installation
2. Internal pressure
3. Operating temperature
4. Lubricant
5. Vibration
6. Contaminants
Of course all gearboxes do not necessarily leak through their rotary seals, as they can as well leak from between their different housings, so we would add:
7. Leakage between the bodies of the gearbox.
Coming back to the list,
1. Improper installation means that the seal was not installed with the appropriate tools recommended by the seal manufacturer, or the shaft was not manufactured following the right tolerances or grinding procedure.
2. Internal pressure is a more frequent reason for leakage:
Most rotary seals were designed to deal with pressures below 0.5 bar. You may find some high-pressure seals on the market, but they won't perform well in standard pressure conditions.
Rotary seals use the Simmering effect to work (the seal is not actually in contact with the shaft : the lip acts like a pump, allowing tiny quantities of oil to go through it, and then pumping it back inside the gearbox)
Pressure typically builds-up in a planetary gearbox in case of continuous operation rising the oil temperature.
When pressure rises, the seal lips are pushed towards the shaft surface and begin to wear.
Swedish seal manufacturer Trelleborg explain in their catalog that even a 0,01 Mpa overpressure might reduce the seal life with high peripheral speeds, and the Fluid power Journal published an article (Pressure effect on seal performance) where it explains life can be reduced to 20% of its original life if seal pressure raises 10 Psi (0.7 bar).
When lubricating a gearbox with oil it is frequent that the manufacturers have to fill the gearbox up to the top to ensure proper upper bearings lubrication (ex:in a vertical application where the motor in located under the gearbox). As a result there is no space for enough air to be compressed, and oil pressure will rise dramatically. Excessive oil is a typical cause of gearboxes leaking oil.
This is one of the reasons why Reckon decided to use grease instead of oil! With grease, internal pressure will remain under control.
3. Operating temperature
The following graph was copied from the Kluber catalog and shows how viscosity varies with temperature.
By definition, the lower the viscosity, the easier oil will leak.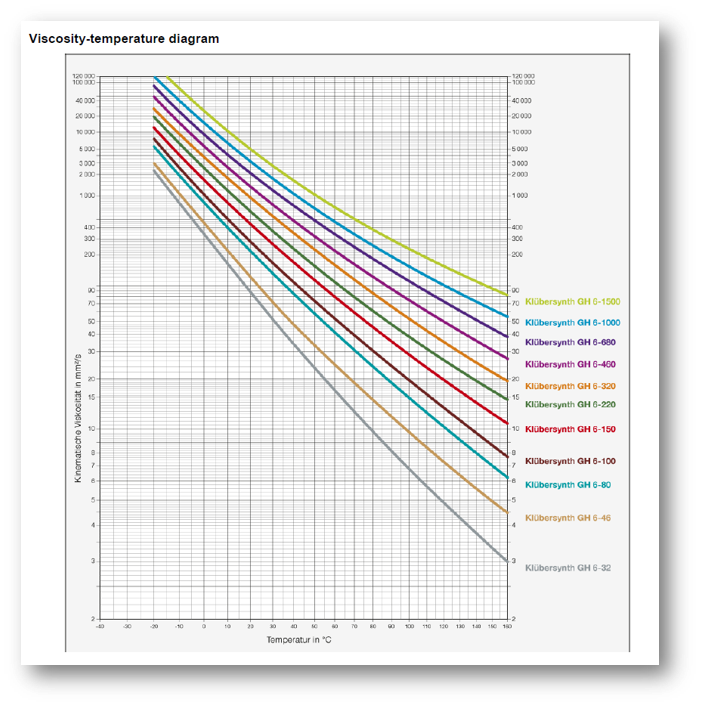 6. Using grease will not help fighting reasons 3 or 5 in the list hereabove (vibration and temperature), but may certainly help solving the issue N°6 : contaminents
When used, a gear may lose some tiny metallic or nitrided particles (like residues of white layer from nitriding), especially if the torque used exceeds the rated torque (the flanks then wear against each other, generating abrasive particles). Using grease will ensure that these particles will not end-up causing damage between your seal and your shaft.
7. leakages between the bodies can be easily solved using o-rings.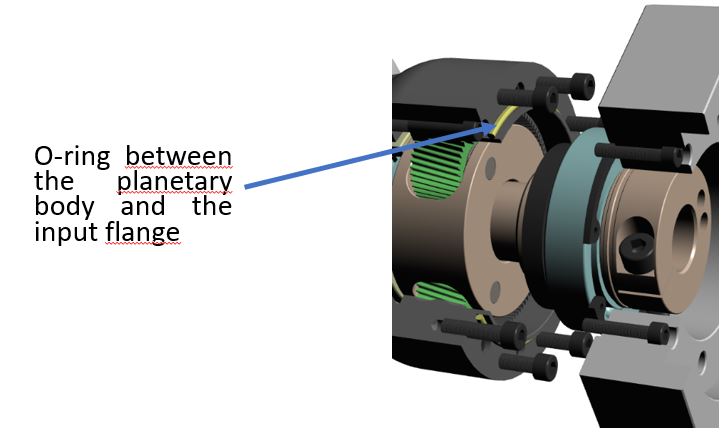 "Pro-oil" engineers may argue that oil has advantages over grease, such as a superior heat dissipation capacity, or a better ability to come back to the gear surface after being flushed away. This has been an ever-ending debate and we will not solve it today, but when speaking of avoiding leakage, our NLGI 2 grease is a safe choice!